What is the Tutor Academy?
👉 Free live webinars to develop as a tutor: GoStudent Fundamentals & Master Classes
⬆️ Extend your skill set
🤝 Meet other GoStudent tutors
📝 Grow your CV
🤓 Become GoStudent savvy, learn ways to operate the platform smoothly
💬 Learn to communicate professionally with students and parents
➕ Build up your student base
Calendar of Upcoming Events
UK/IE TA Calendars
by Olivia Sharp

Please note: The password for fundamental webinars is learnteachgrow

Learn, teach and grow with the ⚡Tutor Academy!
Dear Tutors!🎉We are excited to offer you a global incentive programme to learn, teach and grow with the ⚡Tutor Academy based on your voices from our survey.

What is it?
We will reward tutors who achieve milestones along their Tutor Academy journey🏆
📋☑️In order to be eligible, you should attend a certain number of Fundamental webinars and complete the respective pre- and post- questionnaires
What's in it for me?
Apart from the opportunity to level up your tutoring skills and develop yourself professionally, you will receive the following:
🌳 GoStudent makes a tree donation through our partners WeForest  – after completing 3 Fundamentals
🎁 You will receive an exclusive resource pack of educational materials for you and your student   – after completing 6 Fundamentals
🏅You will receive a certificate of voluntary participation  – after completing all Fundamentals
What are the Fundamentals?
Our Tutor Academy Fundamentals are:
Trial session success
How to structure a 50-minute lesson plan
How to create a study plan
What makes a good tutor?
Communication and presentation skills
Exam preparation
Onboarding 2.0
Learning methods
Learning differences
Digital tools for online tutoring

Our mission statement is: "Learn. Teach. Grow." and we developed the GoStudent Fundamentals specifically to give you the opportunity to develop professionally as a tutor. By attending these live webinars we hope to equip you with knowledge and tools to enhance your tutoring skills while also having fun along the way!

How can I participate?
Rules of the incentives
📋☑️ In order to be eligible for incentives, you should attend any 3, 6, or all Fundamentals from beginning to end, complete both pre- and post-webinar questionnaires and be an active, registered tutor in any of our current markets.
💡 Attendance in Fundamental webinars in any language count. Double participation in the same webinar will make no difference as long as both surveys have been completed before.
📩 Participation in past Fundamental webinars also counts as long as both pre- and post-questionnaires have been completed.

For more information, have a look at the flyer! 👀👇 We're looking forward to seeing you in the next ⚡Tutor Academy webinars! 🤓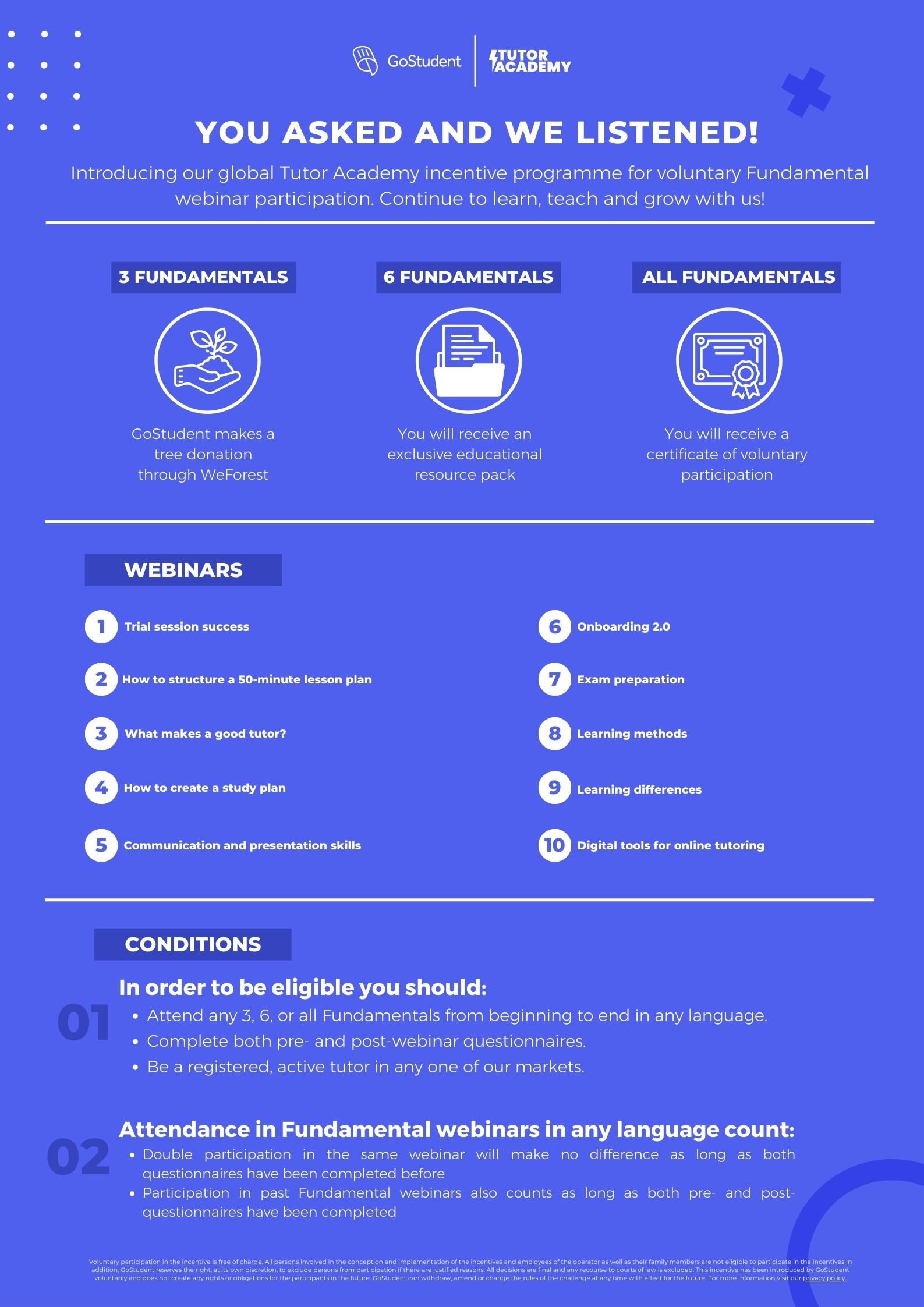 GoStudent Learning Festval

This December, the Tutor Academy will be hosting the first ever GoStudent Learning Festival!
⚡What is it?
A global, 2 day, online learning festival with talks, workshops, panel discussions and activities to support the development of every tutor on the platform 💪
🗓️ When is it?
On the 1st and 2nd December, with global events running from 9am to 8pm CET. We will also be running a UK/IE Spotlight session on Thursday 1st December called Motivate your students!  
🎟️Where do I sign up!?
You can register for events on eventbrite here!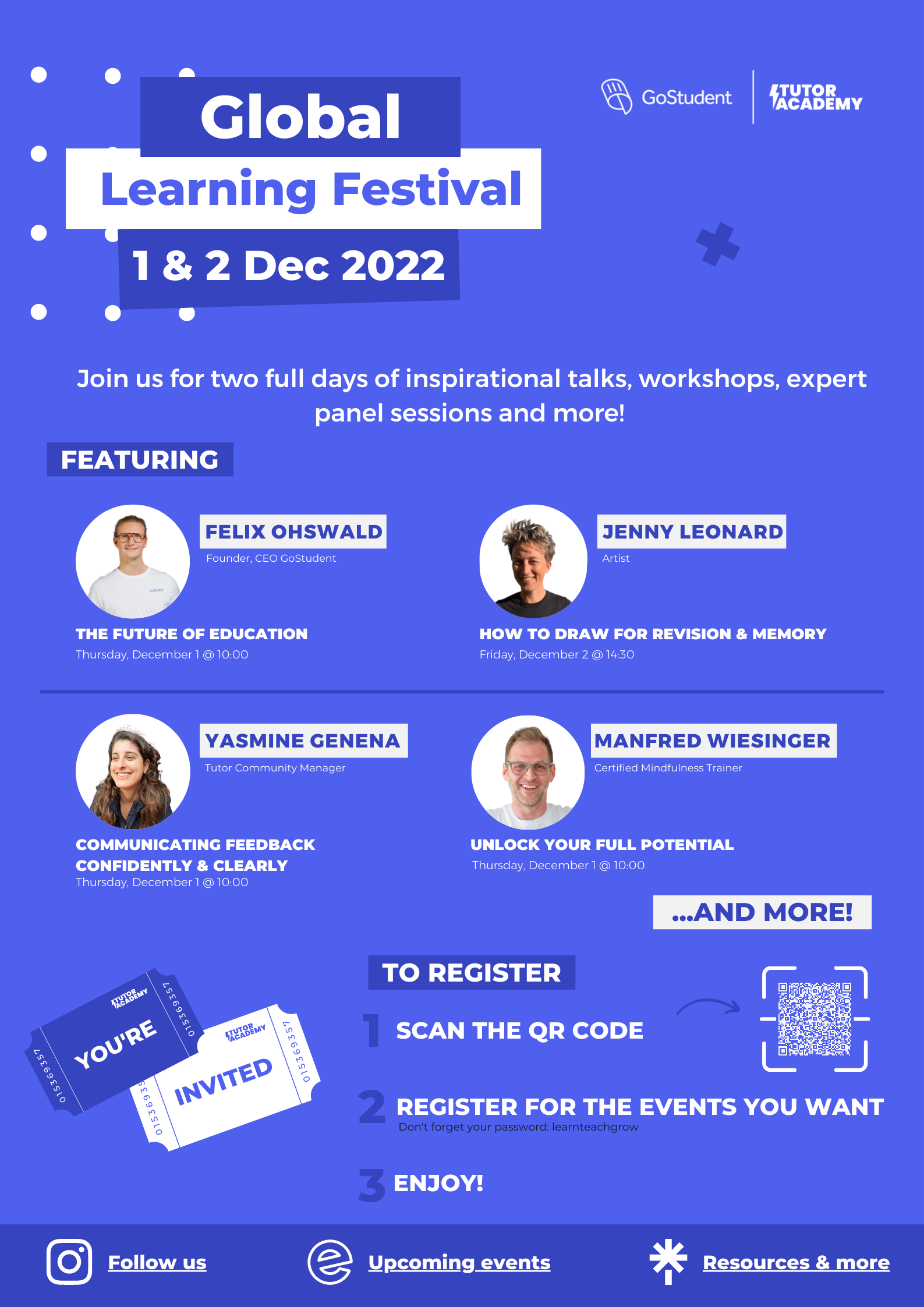 For more information, contact tutor.academy@gostudent.org