Dear Tutors,
We're excited to announce that we´ve launched Student-Tutor Matching!👨‍🎓➡👩‍🏫
Students can now select and connect 🎇 immediately 🎇 with a new tutor of their choice, either for a new subject or as a replacement for an existing subject without trial session.
As a tutor, you play an important role in making this successful. To be able to get new students in this way, we ask you to update your profile using the steps listed here:
1️⃣ Add a clear, professional photo of yourself and a well-written "About me" section that highlights your strengths as a tutor.
2️⃣ Set upcoming availability in your calendar so students know that you're active and able to take on new students.
3️⃣ In the WebApp, go to the Schedule Settings and set "How many additional lessons can you tutor per week?" to at least 1.
🔴🟠🟡 Without this criteria fulfilled, your profile cannot be displayed to the new students, so please make sure to update this information as soon as you can and continue to update if  it changes. 🟢🔵🟣
To get started now, please use this link and fill out the availability information mentioned above. ⬇
https://www.gostudent.org/chat/calendar/settings
Important Information and Questions 📋❓
⭐ How will I know that a new student has chosen me to be their tutor?
A red dot will appear in the Students section and a chat will automatically be created.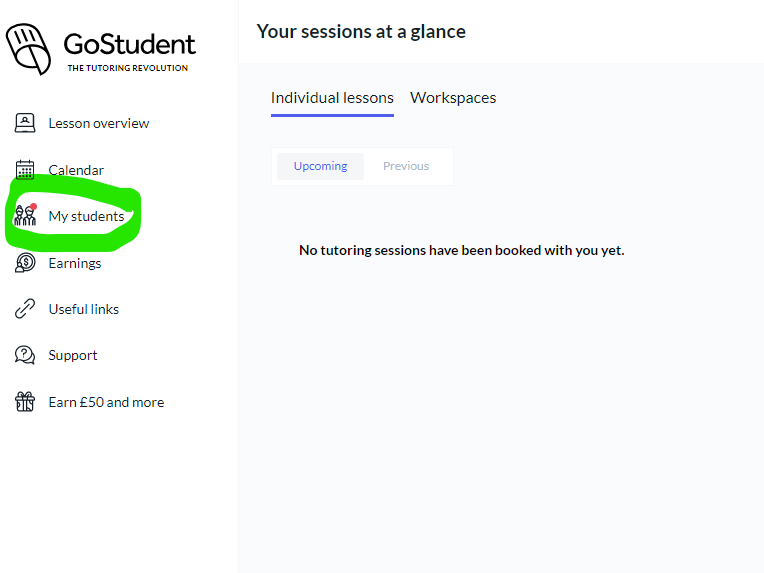 ⭐ I was chosen by the student, can I reject the request for sessions?
We understand that sometimes there's a mismatch between a tutor and student. In this case, we recommend that you encourage the student to go through the search process again to find a better match.
⭐ Can I still use vacancy page to get new students?
The vacancy page will replaced by the new search process. We're confident that this new process will match you with students faster, easier and more efficiently.
⭐ With this new system, how will my sessions be booked?
Trial session bookings remain the same, Programme Managers will book trial sessions based on the skills and availabilties shown in the WebApp. The new self service tutor selection process only serves to replace the Vacancy Page and provides our customers a more direct way to connect with a replacement tutor.
⭐ Will this new system also apply for trial sessions?
For the time being, this new matching protocol will only apply for existing students on the platform that do not require trial sessions.
⭐ I´m not being booked in for sessions, what can I do?
As the summer months are quieter, we expect that bookings will pick up towards the end of August/early September when school is in session again. In the meantime, continue to add and update your available slots on the webapp. If you have not already done so, go to the Schedule Settings and set "How many additional lessons can you tutor per week?" to at least 1.
Thank you for your ongoing support!
We look forward to bringing you more updates soon.
Kind regards, GoStudent